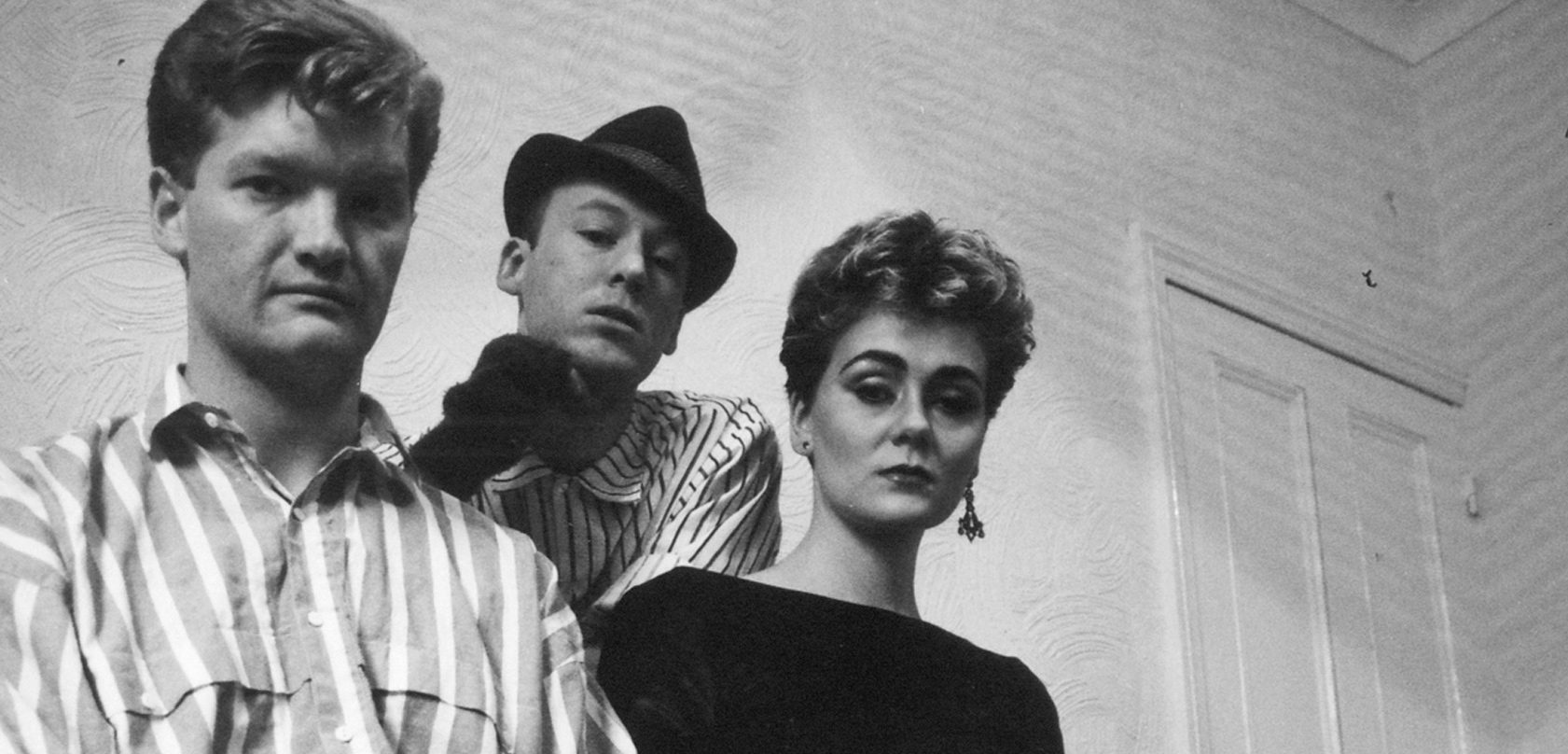 Interviews
A collection of interviews.
WHIRLPOOL GUEST HOUSE INTERVIEW WITH ROQUE PLASTILINA
Thanks so much to Carl Green for the interview! Definitely don't miss the retrospective CD from The Whirlpool Guest House that is out on Summerhouse Records. It's called "Rough Digs" and it's a fantastic collection of songs! Also expect them to be showcased in the next Sound of Leamington Spa compilation!
RP: Having read the great interview our friend Tommy Gunnarsson did to you not so long ago, I won't repeat the same questions. But tell me, what happened to Carl Green and The Scene and Rules of Croquet? Why did you decide to stop these bands and make music under The Whirlpool Guest House? And especially what made you change power pop for beautiful jangle pop?
CG: CGATS and Rules Of Croquet had run their course. I wasn't the sole songwriter in either band and I wanted to be. I was compromising too much, too often. I was utterly bored with playing live and wanted a pop group where the emphasis was on songwriting and recording and not live performance. The jangle pop thing was an accident really. My rudimentary guitar skills saw me play electric guitar like an acoustic – lots of strumming of chords with very few effects. A sixties feel was always the aim, but it actually didn't sound like that. We were making 80's indiepop and it was the most natural thing I'd ever been involved with.
Andy was also in The Scene and Croquet, so it was kind of easy to think he would join your new project, but what about Sallyann? Was she easy to convince? And what about Graeme Robinson, why wasn't he in the "band" even though he recorded all drums?
Sallyann was Andrew's wife and, despite being initially shy, she was happy to donate her vocals to such a good cause! Graeme was never asked to join. He ran a successful recording studio and was very busy. Musically as well, he wasn't really on our wavelength. He was more a rocker than a popper!
RP: How did you meet William Jones from Friends? Why didn't you ever had a band together? Or maybe you did?
CG: Me and Will worked together at Stockton's Dovecot Arts Centre, now sadly pulled down. Will was a sole songwriter like me and had his own way of writing. We were/are musical control freaks! Once you find your own voice, it's best to use it rather than keep it quiet just to maintain the peace.
RP: Aside from your band and Friends, which other Stockton-On-Tees bands would you recommend? Was there a thriving scene as it seems from William liner notes for Rough Digs when he mentions Dovecot Arts Centre's weekly performances?
CG: There was a small scene, but only WGH and Friends were flying the indiepop flag. A lot of Stockton bands were creative and competent, but from a rockier place. Not really to my taste a lot of them.
RP: Speaking of Rough Digs, it is such fantastic thing that it came out. Whose idea was it to release it? And what about these four unreleased songs? Were they planned to be a single maybe?
CG: The credit goes to William. I would never have conceived of the idea. I didn't think there'd be any interest really- there certainly wasn't on its initial release in 1989. Yes, the final 4 songs on the album were planned as an EP in 1990 but we'd already started to morph into Shandy Wildtyme, and they got left behind.
RP: You were a print distributor, a photographer, a poster designer and a mobile disco proprietor, you were the jack-of-all-trades. Was that song about you? Which of these things enjoyed the most doing? Are you still doing any of these?
CG: Yes, I liked to dabble! The print distribution business continues to this day, and provides me with a modest living. Photography is still a hobby of mine and I take pictures whenever and wherever I can.
RP: What about The Plumber's Daughter (my favourite song!), is it a real story? Did the plumber's daughter really existed?
CG: She probably does exist, but I never met her! Like the song says – "a silly impossible dream"!
RP: You had another band called Gaberdine. What was the sound of it? I haven't found much information about it online, maybe there were some releases?
CG: Gaberdine were short lived -1996 to 1997. No releases, not much to say. It was still pop, but punkier and less melodic. Not my favourite time if truth be told.
RP: I know you has a different approach to live performances, having video projected while your songs were played, but honestly, you never played live with Whirlpool Guest House?
CG: No, never. We just didn't want to.
RP: Something that strikes me from your vinyl releases is the great photographs you used for the sleeves. Did you take them yourself?
CG: Thank you. Yes, all my own work.
RP: Why did you decide to change the name of the band to Shandy Wildtyme?
CG: Basically, Shandy Wildtyme was the live version of WGH and we felt we had to put distance between the two bands. Also, the songs of SW were less indie and more harmony pop so we felt the time was right for a change.
RP: What are the Whirlpool Guest House members doing nowadays?
CG: I don't know. We drifted apart years ago.
RP: Thanks so much Carl! Anything else you'd like to add?
CG: After Gaberdine, I created a cartoon pop band called The Close-Ups. We released 3 vinyl singles and an album (2am In Flat 3b) between 2004 and 2006 on my own Northern Round Square label. If you like WGH, you'll love The Close-Ups! It's pure indiepop and features the brilliant voice of Abby Connor who was 15 at the time. The album is still available on CD Baby etc and is one of my proudest achievements in music.
Bringing the story up-to-date, I'm now solo and go under the name Head Of Light Entertainment. It's quirky alt-pop and I'm gigging again after a lengthy absence. I'm really enjoying being back in the thick of it. My debut album is planned for autumn this year, and will feature 12 songs that sum me up both musically and personally. More info at https://www.facebook.com/headoflightentertainment
WHIRLPOOL GUEST HOUSE INTERVIEW WITH TOMMY GUNNARSSON
Earlier this year, I reviewed the compilation 'Rough Digs' released by Summerhouse Records, containing all the songs recorded by the Stockton-on-Tees based trio Whirlpool Guest House during the late 80s. Even though the booklet that comes with the compilation tells the story of the band, I wanted to know more, so we contacted the band's front man Carl Green to get some more information. But first, some basic facts for those of you who aren't familiar with Whirlpool Guest House… The band consisted, as well as Carl on vocals and guitars, Andrew Davis on bass guitar and his wife Sallyann on vocals, with producer Graeme Robinson filling in behind the drum kit. Their first, and only, single, called 'The Changing Face' was released in 1987, and an album followed two years later, which was entitled 'Pictures on the Pavement'. Both records were released at the time by Summerhouse Records, which is run by Friends' front man William Jones. Are you ready for some more information on this forgotten treasure? Here we go!
TG: Tell me a little about how Whirlpool Guest House formed and where the name of the band came from?
CG: We were three friends with time on our hands! We all loved that late 60s hippy folk scene but thought it might benefit from an injection of pop! We took the Mamas And The Papas harmonies, the weirdness of Strawberry Alarm Clock and added a big dollop of melody and voila! The name is an imaginary reference to 'Heartbreak Hotel', Whirlpool Guest House being the cheap, seedier version on the other side of the tracks.
TG: How did you get in contact with William and Summerhouse?
CG: We are old friends.
TG: What were your influences when you formed the band, and how did they change?
CG: Well, I've already mentioned the 60s stuff but we were also fans of 80s indie pop like Orange Juice, the Shop Assistants, the Housemartins and the Smiths. Our influences didn't change…we were quite a short lived band really.
TG: How did you write the songs? Was it a band effort or did you do them all yourself? Did lyrics or music come first?
CG: I wrote the words and music (nearly always music first) then Andrew and Sally would add the harmonies and bass parts. We were all involved with the final arrangements and overall sound though.
TG: Whirlpool Guest House had a very alternative approach to live shows. Why didn't you want to play live, and why did you come up with the idea of a visual show instead?
CG: I was bored watching people play musical instruments on stage. Even if they put on a great live performance, I felt that I had seen every move and facial expression a thousand times. I had always had an interest in film and photography and decided to incorporate this into a kind of audio visual stage presentation. I wanted invention not tradition. I liked the idea of perplexing an audience. I still do!
TG: Why did you split up? And why did you form another band, Shandy Wildtime, with the same members later on?
CG: We didn't split – we just changed our name! We were wilfully obtuse!
TG: Do you have a favourite moment with Whirlpool Guest House?
CG: I think the release of our first single 'The Changing Face' was pretty exciting.
TG: What's your favourite Whirlpool Guest House song? And why?
CG: 'The Plumber's Daughter' I think. It captured the band ethos best and the words still resonate with me. I also like my little guitar part in the middle!
TG: What was it like to be a band like WGH in the late 80s?
CG: Unloved and unheralded.
TG: How do you think the music scene has changed since then?
CG: I am not sure it has really. Young people picking up guitars or keyboards or whatever, and spilling their hearts out in song is still a path eagerly trod by millions of creative people who want to be heard, who want to make a difference. Good luck to them all.
TG: Have you ever talked about a reunion?
CG: No. I'm not interested in past glories!
TG: What have you been doing since the split?
CG: I created a cartoon pop band called The Close-Ups earlier this decade with a brilliant teenage singer called Abby Connor. That's now on ice, and I'm performing solo as Head Of Light Entertainment. It's kind of acoustic left field pop with elements of everything I've done in the past. I feel I've finally found my true niche and I'm having a ball!
TG: What do you think about the digital revolution in music? Is downloading a positive or a negative thing?
CG: Today's music lovers will access music via today's means. It is not for me because I prefer quality and the feeling of buying into an artist's world, but as long as music is being made, being listened to, being loved, then everything is good.
TG: Thank you.