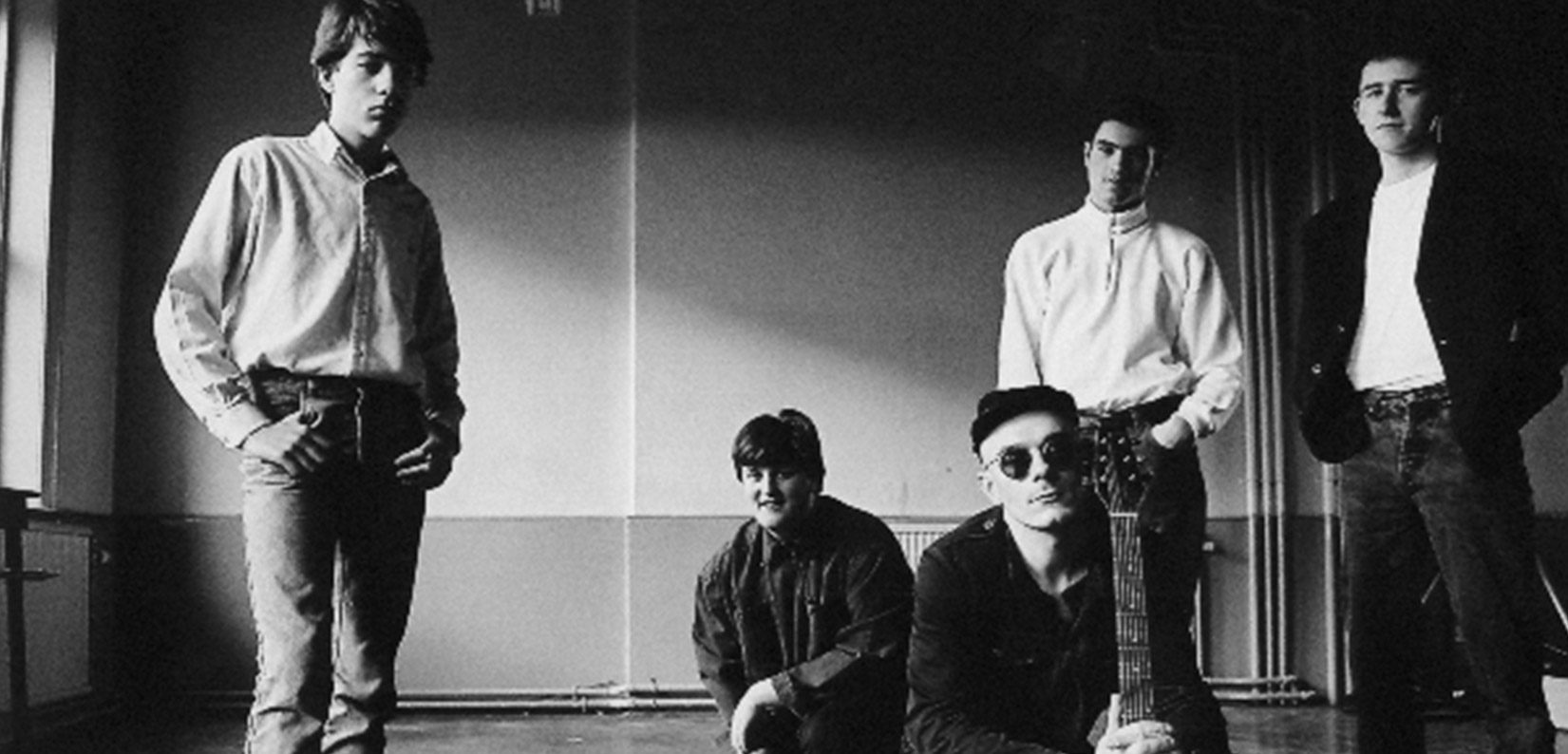 History
A selective history for the band with commentary
2002 - 2021
In summer 2002, Summerhouse released Best Of Friends, the long-awaited compilation which features tracks from almost all the band's singles and albums. The album also features extensive notes from founder William Jones and an introduction from former Factory artist and friend of the band Graham Fitkin.
Jones had made a couple of solo recordings during Friends downtime, and one of these, Downstream, featured on a CD single, Special You, preceding the imminent new studio album. Downstream, originally written as incidental music for a production of Shakespeare's Twelfth Night, was recorded in day at Fairview in early 2001, and a solo version of the early song Every Summer was also included. One night in early 2002 William Jones recorded an eight-song mini-album of songs for acoustic guitar and voice in a London studio, and these too may appear on future Friends albums either as they stand, or arranged into songs for the full band.
Beautiful You appeared in September 2002 to a good response from new and old fans, the odd good review, and to much wider distribution due to Summerhouse's new deal with Native/Pinnacle. The album was a return to the classic Friends pop style, but with some interesting and unusual features such as the Latin/flute-tinged So You Say, the lengthy funky bass workout on The Avenues, and the elegiac strangeness of It Passed Me By – with, inevitably for Friends, the blissful summerama of When The Sun Shines and the buoyant optimism of This Is The Start.
"It was wonderful to get back in the studio again. After all the time away I felt that we'd ended up with an excellent choice of songs, and for me it's our best album, and the most satisfying to make. The only frustration was having so many songs that we couldn't record, but we've kept them for another time. The lay-off wasn't quite of Steely Dan proportions, and we never quit, just went very quiet, and I now feel we've never been away."
Now back in the groove of writing and recording, Late Night Early Morning was recorded a year later and released in June 2004. With regular singer Katherine Dow Blyton unable to get away from acting duties as a regular on Hollyoaks, Melanie Harrold stepped in and added some very individual harmonies and wordless improvisation to bring a new dimension to several of the songs. A location recording of a swimming pool in Hull, mixed into the album's closing song Slow Dissolve, added to the weirdness.
In 2007, after a break of 13 years, Friends finally returned to live performance, with a warm-up gig at the Wilmington in Rosebery Avenue, London, and two shows at the Spitz, one of them a special Summerhouse night to launch new signing Showstar, and also featuring 4,000,000 Telephones and ex-Rumblefish singer Jeremy Paige. An acoustic version of the band, available and ready to play at any time, also played a couple of gigs with a voice/guitar/double bass/percussion line-up.
A new recording of the classic You'll Never See That Summertime Again, the longer, more ambitious Spangleland, and a compilation of all six of the band's singles, Single Friends, took things up to the end of the first decade of the new century. Then finally Friends were offered the opportunity they had been striving for since the early days in the late 1980s – the chance to go on tour in Japan. The band were invited to play two concerts in Tokyo and one in Osaka, with the Monochrome Set and three Japanese bands, and it was the experience of a lifetime. In particular it was the chance to meet many fans who had been writing for years, to talk, sign albums and get photographed with them. Friends warmed up for the Japan mini-tour with performances at the Berlin Popfest and London's Half Moon.
Ironically, having achieved their greatest ambition, it became increasingly difficult for the band to take things further. Founder member William Jones moved to Italy, and working remotely with occasional rehearsals together in person didn't go so well. In summer 2021 William Jones decided to finish the band and formed a new group in Italy with Italian musicians, La Porta Nuova. He said: "Thirty-five years isn't a bad lifetime for a band, and we always kept going because there were new songs to play. I'm proud of the music, and I'm happy that we made a connection with a lot of people all over the world."
1996 - 2001
The relative commercial failure of Folk Songs resulted in a lay-off from recording which was originally intended to be a year, but gradually extended itself. Martin Parker had moved to London to work in graphic design and photography, and William Jones moved there in late 1999. Coincidentally both ended up living in Walthamstow in North East London. Even more coincidentally, so did Edwin Pearson, the bass player in a very early line-up of Friends, and the three started rehearsing together.
Through five years off the radar screen the band had been far from inactive, writing and arranging and making rough recordings of the new songs, developing content for the new Summerhouse website, and preparing the Best Of Friends compilation. By this time they had built up an enormous stockpile of about thirty songs, intending to record them at Fairview in summer 2002.
In January 2001 William Jones had spent a day at Fairview recording the almost-entirely instrumental Downstream, which would appear the following year on the Special You CD single. The origin of the song was an amateur production of Shakespeare's Twelfth Night, for which Jones wrote incidental music including the Downstream theme which started the play. As a Friends track it does actually include very minimal lyrics – a 13-word verse at the very end.
That summer he also spent a week of intensive writing in North Wales and emerged with a mini-album's worth of purely acoustic songs. Then in early 2002 he came up with a further batch of new songs for the full band which displaced much of the backlog of material built up over the previous five years and planned for the new album. With Edwin Pearson now on bass, Friends finally started to develop the set that would appear on 2002's Beautiful You.
1992 - 1995
No longer close to Darlington, and feeling that they needed the input of an experienced producer, Friends went back to John Spence and Fairview, and this time asked Spence to produce as well as engineer. The result was Bluishness, recorded in nine days in summer 1992. This was the first CD-only release by the band and the first to feature the characteristic Friends artwork of Martin Parker. One song, Bobby, James And Melanie, a whimsical Jones tribute to three cinematic icons De Niro, Spader and Griffith, had been recorded during the Songs Without Tears sessions and kept in reserve for the next album. Guest appearances included Whirlpool Guest House's Sallyann Davis on backing vocals, and guitarist Steve Skinner, now working with Edwyn Collins, playing on three tracks, most notably a bottleneck guitar solo on blues nightmare number Release Me.
By now the band were releasing an album a year and had given up on singles. The vast majority, around 85%, sold outside the UK and Friends had long since abandoned ambitions for a career as popstars, preferring to get out as much as possible from an enormous repertoire of songs and build up a long-lasting reputation and following as 'serious' musicians.
The same line-up returned to Fairview the following year to record Sundrowned. This took the Bluishness sound to another level again, with Spence still producing, and with a set of rockier and more varied songs, including the wall of noise Get Together, introduced by the wind sound of a whirly 'tune tube' specially researched and bought by the band from Toys 'R' Us during the recording sessions. The enormous length of this album (and of its successor, Folk Songs) was on the rationale that it might be the band's final recording.
The last show featuring the full band was at the Leadmill, Sheffield, on 14 March 1993, where Friends were supporting Sam Brown. Thereafter Jones and Parker developed an acoustic set, with percussion, guitar, vocals and, latterly, additional vocals from Katherine Dow Blyton. A highlight of this period was a poorly attended gig in a cemetery in Sheffield – poorly attended by living people, that is.
Having given up on singles, Friends reverted to the 7″ medium in 1994 to give Foreign Money an airing, backed with an acoustic number You Can Do. The duo had recorded this in a day at Fairview in early 1993, along with Hesitant Smile, which later showed up on Folk Songs. Around this time Summerhouse lost its distribution deal with Vital, who had taken on distribution from Red Rhino and latterly Revolver-APT, and Foreign Money and the next album would be export and mail order-only releases.
Martin Parker moved to Edinburgh, and Folk Songs was rehearsed by post and in occasional marathon sessions in Edinburgh and Worksop. The band decided to feature the acoustic side to their work which they had been developing in live performance, and to strip the sound right down to the basics, in some cases just voice and guitar. Folk Songs was recorded in nine days and mixed in three in summer 1995, and released that November. Ranging from one-minute minimalism to the epic nine-minute Visions, the songs are largely acoustic in treatment, with transparent arrangements and an intimate feel. A couple have a fuller band sound, but even rockier numbers like Believe Me have a raw quality in keeping with the rest of the album.
"Folk Songs was a joy to record, except that we ran out of time near the end and had to add a couple of extra days. Kath's singing and the string quartet arrangements added a lot to the songs, and it all came together very quickly. It has some of my favourite songs on it, and it's a style of recording we may return to, or at least mix with a fuller band sound in the future".
The acoustic sound of Folk Songs was previewed in a one-off concert William Jones played in Tokyo with percussionist Masako Ogawa in April 1995, and a short promotional tour in the UK followed at the end of that year, when the album was released. Then everything went quiet for a long time.
1990 - 1992
The First Day Of Spring had already been recorded and was released in April 1990, while Jones had started to commute from Nottinghamshire to rehearse in Newcastle, where Moffat was now based. Cover star was Nikkat Saddique, a friend of the band from Stockton. Eventually Moffat dropped out, and there was a one-year hiatus in live work until mid 1991. During this time the sessions for Songs Without Tears, the third album, took place, Jones travelling to Darlington on weekends and days off to add to the drum, bass and rhythm tracks that had been put down.
"This was the least satisfactory album to record. Because I was coming up one day a week we could never get any continuity going, and being the sole surviving band member was a lonely experience. I think this shows in the record, which for me never quite makes it either in performance or recording quality. We would get so far and then always have to stop when I had to catch the last train home. Lindsey was a good addition to the line-up, but there isn't really any band feeling to the record."
Living in Worksop, Nottinghamshire, Jones saw a local band, the Desperate Smarties, performing at the wonderfully-named Frog and Nightgown. The band was forgettable, but the drummer was memorable, and Jones approached him shortly afterwards to leave his current band and join Friends. The answer was initially no, then eventually yes. Martin Parker replaced Graeme Robinson and began to work with Jones on a new set of songs in the house they shared in Worksop and a rehearsal room at Retford Little Theatre. Parker became intrinsically involved in arranging the songs, which were worked out on a Portastudio, with Parker on drums and Portastudio engineering, and Jones on everything else.
"Martin was the kind of drummer and collaborator I had been looking for for a long time. When I saw his band he was a punky kind of drummer, but with an obvious musical intelligence, and he brought this to arranging the songs, which started to become a lot better worked out and less predictable. Around this time too the songwriting was starting to branch out from the very poppy stuff and the gothic rock side to our work, to include some more acoustic numbers, and a style I would describe as "psychedelic anthem" which appears on a couple of songs on Bluishness and Folk Songs."
1988 - 1989
The addition of Graeme Robinson to the band was the start of a long relationship both with Robinson and his studio, GDR, based in Darlington Arts Centre. The studio had been used by Whirlpool Guest House for their first single, and by this time was a good-quality 16-track managed by Robinson, who engineered and produced for a range of North East bands. Jones and Moffat went there for the first time in March 1988, spending an evening recording Wanting, which was to wait until April 1990 to be included on the First Day Of Spring 12″ single.
The whole band returned that summer to record the first album Let's Get Away From It All, the definitive representation of the Friend live sound of that time. The tracks chosen, largely taken from the live set, encompassed the range of summery optimism and introspective darkness that characterised the songs. An unusual feature of the music until recently was that Jones had noticed that the overused pop word 'love' didn't appear in any of the earlier songs, and continued this as a matter of policy, trying to find different ways of expressing pop romance. The back cover photograph was taken at the band's rehearsal room on the top floor of the Dovecot, with the front cover one of a continuous supply of slides which were projected behind the band at early gigs.
"The label's distributors Red Rhino recommended that we include material from It's Getting Louder and Far And Away on the album, both to market the back catalogue and to save on recording costs. Of course, we knew better and decided to re-record them, to improve particularly on the vocal sound. Inevitably we were mistaken: the vocals were better, but we failed to recapture the lush sound of Fairview in particular and ended up with what we felt were feeble-sounding versions of the originals. This was largely due to my inexperience as a producer, and partly due to the difference in studio."
Nevertheless the album was the first event to establish Friends on the fringes of indie stardom, gaining the first national review coverage, and selling fast, especially in Japan. The band continued to play all over the country, with the strains this placed on members' other commitments leading to the departure first of bassist Peter Maude in late 1988 then Jo Spayne in 1989. This left Jones and Moffat as the core of the band and, frustrated of the constant need to recruit new members and induct them into the band's material, they reverted to using a range of tried and trusted session musicians, eventually settling on guitarist Richard Buckton, keyboard player Jon Kirby, drummer Graeme Robinson and bassist John James, all part of a Teesside musical mafia who had worked together on various projects, often in Robinson's studio.
With the temporary involvement of Steve Benson on guitar, Jones and Moffat returned to GDR in summer 1989 to record the second album, Roads Leading Everywhere. This recording represented the peak of '80s Friends, with some of the band's best songs of that period given a more lush production treatment and fuller arrangement.
"Everything came together perfectly on this session. We knew exactly what we wanted, worked it out in detail before going into the studio, and put it down quickly and easily. It was a really enjoyable experience, and we recorded and mixed the whole thing in six days."
The album's release in September 1989 took Friends up to a higher level of recognition, with more music press coverage and better sales than the first album. Then, at the end of that year, William Jones left Teesside to work as manager of an arts centre in Nottinghamshire, and the first phase of the Friends story was over.
1986 - 1987
Friends formed in early 1986 in Stockton-on-Tees, Cleveland, England. The band was intended as a vehicle for the songs of William Jones, who was working at the Dovecot Arts Centre in Stockton as Music Officer. The early band was closely associated with the Dovecot, rehearsing and often performing there as part of a regular flow of independent bands both from the region and elsewhere who formed the burgeoning independent music scene of the time.
Jones had started out as a classical guitarist, coming to acoustic and electric guitar relatively late, and had intended to remain as guitarist and songwriter with the band. The first batch of songs was worked out and rehearsed using members of another local band, Whirlpool Guest House, with Carl Green, WGH's vocalist, singing, and Green and Jones recorded an early Friends demo in Gosforth, Newcastle, as a two-piece with drum machine. Jones' rapidly expanding catalogue of songs, and his desire to make the band a permanent entity, led to his recruiting a live line-up and taking on the vocal role until a singer could be found.
"My dictatorial running of the band at that time meant that I could never take a back seat, and I had a very tight rein on how the songs were presented. Eventually I found myself increasingly enjoying the role of singer, learned to sing better, and decided to stick with it and take it on myself".
The first line-up (William Jones, Greg Bone on guitar, Bruce Pearson on keyboards, Tony Stewart on bass, and Paul Lynagh on drums), never made it to the first gig in August 1986, as Stewart and Lynagh both left to pursue an interest in another band. Around this time, everyone was in at least one other band, and Bruce Pearson's brother Edwin was recruited on bass, with Chris Wood on drums. The band teamed up with Steve Daggett, who had engineered the very early demo, and went to Strawberry Studios in Stockport to record a first 7″ single, It's Getting Louder.
"This was a mistake, and was far too early to record a single. We had better songs by this time, and I hadn't really got to grips with the singing. The songs were under-arranged and empty-sounding and we were very disappointed with the results".
Nevertheless, Friends started playing live extensively throughout the area to support the single, which was distributed by Probe Plus through the Cartel (the independent distribution network), though without shifting large quantities. It's Getting Louder was released in October 1986 on the new Summerhouse label which Jones had formed earlier that year to provide an outlet for his and Carl Green's songs, and those of 4,000,000 Telephones, one of a steady stream of brilliant independent bands that was passing through the Dovecot.
Undaunted by the experience of the first single, Friends were soon back in the studio, this time at Fairview near Hull. Fairview and its resident engineer John Spence had been recommended to Jones by Steve Skinner, singer and guitarist with International Rescue, who Jones had seen supporting Orange Juice and subsequently booked to play at the Dovecot Arts Centre. The same Friends line-up recorded four songs for a 12″ single, three of which had become fixtures in the band's live set. The sessions took place in a very bleak December, and involved a perilous journey where the band's van, loaded with equipment, came off the road into a ditch in the countryside miles from the studio. With the failure of the first single, and the label struggling, the release of Far And Away was put back to September 1987, and plans to release it in two formats, 7″ and 12″, abandoned.
A feature of this time was the impossibility of finding a decent trumpeter to join the band without being paid a large amount of money. So for live work Friends used session trumpeters of varying ability and commitment, and arranged parts for them. For the Far And Away sessions, Fairview had an old trumpeter called Norman Baron working at the studio on cassette duplication, and the band booked him for the job, playing on Burning Bridges and Over And Over, with Martyn Clarke, a Newcastle-based session man, coming down for the final song The End Of The Affair.
"Trumpeters were a nightmare. I hated them. If they could play, they always looked wrong, and if they looked good they could never play. They never learned the songs. Plus they cost a fortune. My biggest ambition was to get a trumpeter to join the band full-time. Additionally we liked to use two, which doubled the problems, and the wage bill".
By the time Far And Away was released Friends had experienced another mass exodus of personnel, the two Pearsons and Wood leaving to concentrate on their other two ventures, a hippy-rock/Dylan-influenced band and a jazz-funk outfit. Jones advertised for replacements locally, and the result was the youngest ever Friends line-up, all the new members clocking in at under 20. First recruit, drummer Craig Vear, brought with him bass player Peter Maude, and later Stewart Moffat, a trumpeter who eventually doubled up on keyboards; Jo Spayne joined on guitar, with Michele Lackenby on keyboards. The latter two lasted only a handful of gigs, with Stewart Moffat moving to keyboards and Graeme Robinson joining on drums.
The new line-up was ready to play live by July 1987, and by this time Friends were playing throughout the country, with dates in London, Bristol, Newcastle, Birmingham and the many venues in Stockton, Middlesbrough and Darlington which made up the local band scene.